Jamie Higginbotham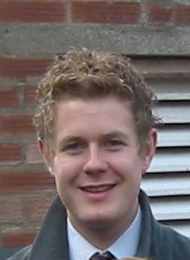 Name: Jamie Higginbotham
Degree Course: MEng (Hons) Electronic Engineering
Age: 23
Nationality: British
Hometown: Stockport
Email: jamie.higginbotham@student.umist.ac.uk
Background information
I am currently in the final year of my MEng Electronic Engineering course. My 3rd Year Project was to design and fabricate a chip that converts 3 binary inputs into a decimal number on a 7-segment display. This involved designing the associated logic using a number of logic gates and laying the circuit out on Silicon. I designed 4 mask sets: diffusion, gate oxide, contact holes and metal using AutoCAD. I then worked in the UMIST clean room to fabricate the chips using various techniques such as photolithography. My hobbies include music, football and playing the drums.
Academic Fields of Interest
Design and Fabrication of Microelectronic Components
Semiconductor Devices
VLSI Design
Digital System Design
Education
1998-2004
University of Manchester Institute of Science and Tecnology (UMIST),
MEng Electronic Engineering (Hons)
1993-2000
Poynton County High School Sixth Form
A-levels:

| | |
| --- | --- |
| Business Stuidies | C |
| Design | C |
| Computing | D |
| General Studies | D |

1991- 1996
Poynton County High School
GCSEs: 9 at grades A-C including English and Maths
Work Experience
2003
Summer Placement with Philips Semiconductors, Hazel Grove.
Competitor Cross-reference tool: Produced competitor cross-reference tool to be used by sales team and customers. Tool was made available on the Philips corporate website. Compiled a database by analysing MOSFET datasheets and comparing various key parameters.
Lab work: Tested various devices and collated the results to be used on datasheets. Measurements included input/output capacitance and gate charge.
2001 - 2002
One Year Placement with Siemens Automation and Drives, Manchester (full time) - Certificate of Industrial Experience achieved. I worked in various departments as follows:
Engineering: I worked closely with Electrical Engineers to provide technical drawings using AutoCAD and technical help for customers.
Technical Service: I attended numerous site visits with commissioning Engineers to sites such as Sulzer Pumps in France, Kingsnorth Power Station in Kent and Drax Power Station in Leeds. I gained valuable practical experience and witnessed how the engineers dealt with unexpected problems. I was able to get involved in the projects and was given tasks and specific goals to achieve.
Project Management: Working with the Project Managers I gained an understanding of the life cycle of a project and how problems are dealt with. I also gained communications skills dealing with customers.
Technical Sales: Liaising with customers and producing detailed quotes
2000
Summer vacation work. Parfetts, Cash and Carry Store, Stockport (full-time)
1996 - 2000
Grocery assistant, Somerfield, Poynton (part-time)